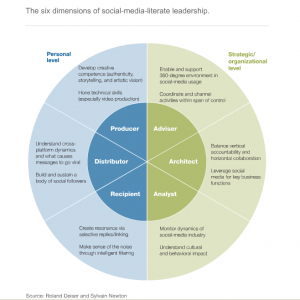 Today large organizations face a pervasive gap in social media competency among their ranks. A recent Stanford GSB report highlights that executives are aware of social media opportunities and risks, but that few have put into place the kind of systemic practices that advance an organization. As a result, there's a lack of understanding of and preparedness for the rapidly changing terms of communications and engagement. Leadership risks being well equipped for fighting the last war.
McKinsey Quarterly makes a similar argument, and identifies six social media skills every leader needs [free registration required]. The six skills are divided into Personal Level (Producer, Distributor, and Recipient) and Strategic/organizational Level (Adviser, Architect, Analyst.) Using GE as a case study, the article describes each role in detail and how strong execution can have an impact on culture and outcomes.
The role of the social media leader as architect and enabler across the organization is particularly powerful. The word is out on the social media revolution: with their parents on Facebook and their kids on Snapchat, employees are by and large eager to get on board with new technologies. Leaders who develop an organizational culture that celebrates and empowers rather than censors and condones social media adoption will identify more loyal champions and idea generators among its ranks.