Friday 5 — 2.26.2016



Weekend fun: If 180lb walking robots are your jam, Boston Dynamics has just the video for you. I'm pretty sure the guy who pokes Atlas with the hockey stick is not going to survive his next video shoot.
Every Friday, find five, highly subjective pointers to compelling technologies, emerging trends, and interesting ideas that affect how we live and work digitally. Try out the Friday 5 archive, or sign up for a weekly email.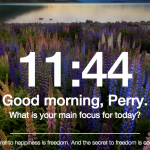 Read next