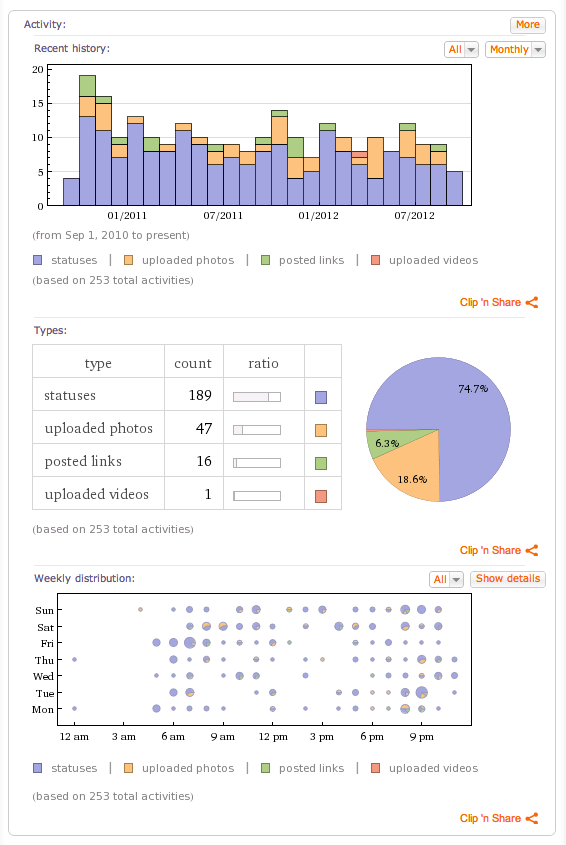 It takes a curious mixture of narcissism, introspection, and discipline to engage in personal analytics on any level, much less dialed up to Feltronesque quantified self. This quick download of my Facebook activity since September 2010 confirms:
I use words (189) more than pictures (47), and neglect video (1) almost entirely
My friends are a bit more female (53%) than male (47%), hail from 24 countries, and include 1 fervent monarchist
Inexplicably, I post most often at 9pm on a Tuesday night
Aside from the vague shock of realizing where one's time goes (I recommend Rescue Time for a sobering application analyzing web use), the possibilities for personal analytics are enormous. Nike+ FuelBand is a great example of a personal analytics service that's addictive and competitive, and effectively connects long term fitness goals to short term behavior.
What are the effects of aggregating personal behaviors at this level — not even explicit consumer tastes, just daily habits? We live our lives in public as never before, and what may seem mundane — the precise time we're gazing into the iPhone's glowing screen on a Tuesday evening — could lead to useful personal insights, relevant commercial applications, and of course privacy concerns.