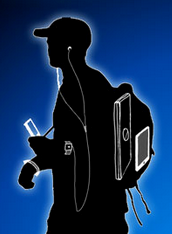 Anyone who's spent time in a high school or college campus recently won't be wholly surprised by Pew Internet's recent study on U.S. teens and technology. 78% of teens have a mobile phone, and 47% have smartphones — meaning that a whopping 37% of all teenagers have a smartphone.
More surprising may be the number of mobile-mostly users, people who access the internet mostly through their mobile device. About 15% of adults mostly use the internet via mobile, but there's a big leap to 25% of mobile-mostly teens — and a full 50% of teens with smartphones.
What does this mean as older teens entering college campuses and the workforce? The communications and ecommerce worlds have been living mobile-first for a while. Jonah Peretti reminded us at SXSW that mobile used to be where content stopped, but today mobile is instrumental in content spread. Black Friday 2012 was a wake-up call for any remaining retailers who didn't see the opportunity for mobile transactions.
The seismic shift will occur for enterprise IT when these teen mobile-everything users expect to be able to perform tasks from registering for class to entering time in PeopleSoft to submitting expense receipts. Bring Your Own Device (BYOD) has been an IT practice for a number of years, with non-trivial concerns about support and security. Make no mistake: this teen mobile usage data shows there's a tsunami of application development work awaiting organizations for this rising generation of mobile internet users.