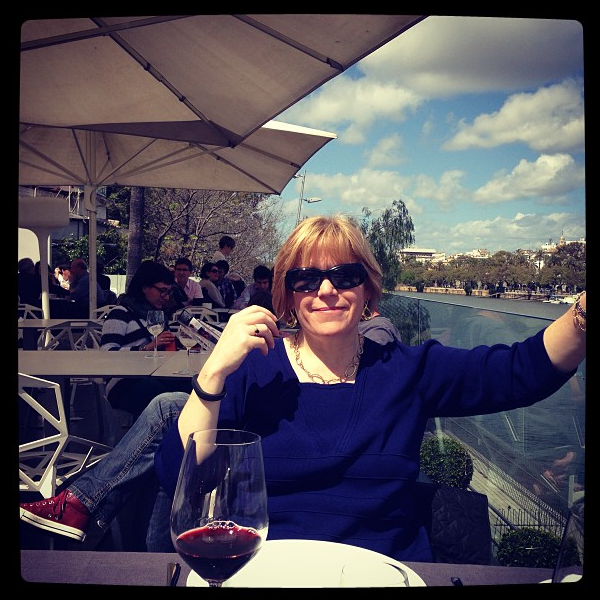 Back from a needed break in Seville — where the rains finally stopped to provide a hint of Spanish spring.
In an era when many women are striving to Lean In professionally, I'm surprised how many still express trepidation at the idea of traveling alone. There's a lot of sensible online advice for logistics, like useful safety tips (and bad things can certainly happen), but far less about how to enjoy it. Here are a few ideas for making the most of solo travel, whether for business or pleasure:
Find your favorite travel services/apps, and become a pro-user. Kayak for deals; TripIt for social itinerary management; OpenTable or Yelp or Foursquare tips for meals and entertainment; Waze for wayfinding; Kindle for reading. There's no one right service: find one that meets your requirements and master the app so you know how access what you need on the road.
Plan ahead, but if you're busy, keep it simple. My protip (a precursor to subreddit Explain Like I'm Five) has been to take out kids' travel books on the area before going. If I have time for Black Lamb and Grey Falcon before a trip to Serbia, fine, but most of the time a short and quick read of greatest hits will suffice.
Use social media to meet up with friends or friends of friends — or just get up-to-the-minute advice. Depending upon the kindness of strangers is easier than ever in the digital age, and far more empowering now that you can offer tangible tips back through online services. Whether you're looking for recommendations for local theater tickets or the absolute best cup of coffee, I'm pleasantly surprised how generous people are with their ideas and recommendations. Use them, and reciprocate.
Choose accommodations wisely. I've stayed low-end for startups and nonprofits and on the higher end for long-awaited vacations, but a safe, walkable location close to a city center delivers more value than any other amenity. Figure out the features (a gym? wifi? non-creepy bar?) that are important to you, and focus more on those than the starred reviews.
Look up and speak up. Many of us, myself first and foremost, suffer from dopamine-driven mobile device habits. When traveling, put yours down and look around. At a conference, make an effort to meet the people you tweet with, and don't worry if there as many misses as hits. Crowdsourced recommendations are terrific, but sometimes you do as well asking the person next to you where the best ice cream is (in Seville, the pointer to Heladeria Alfalfa was a hit).
Learn to eat alone comfortably. Talking through a meal on a mobile isn't the same as a dinner companion for you (or for your fellow diners). Learn to read, write, or just relax over a meal. Avoid room service — there's nothing more grim than eating dinner in a hotel room. Tip appropriately for the local norm and the service you receive.
Make a personal connection, and ask for what you need. Making a personal connection as you check into a hotel (front desk clerks have astonishing discretion for upgrades) can yield terrific results. For ideas, try an online community like flyertalk that's populated by road warriors who are the Olympic gold medallists of the upgrade. Whether you're speaking with a concierge or maître d' or gym attendant, learn how to politely but clearly ask for what you would like. It's still common to be offered the room next to the ice machine or the table by the kitchen; it's surprising how much of an improved result a polite request can deliver.
Traveling on your own can happens for a variety of reasons — a free day tacked on to a conference, or a planned trip to a destination of your dreams. Enjoy!