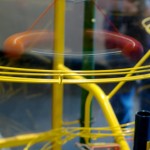 Many people in the tech community rely on a canny service called IFTTT. Short for If This, Then That, the service automates conditional statements in our day-to-day lives. For example, if I go the the gym and check in on Foursquare via smartphone, then IFTTT records a workout on my Jawbone Up. These conditional statement "recipes", a word I am familiar with only from binge-watching Breaking Bad, can be created and shared with others.
The looming New Year got me thinking, though. What great IFTTT recipes will we need in 2014? Everyone claims it's the year of the internet of things and wearable tech, so shouldn't we be automating our Glorious Future™ now? These seven recipe ideas would really put the internet to work for me …
Read the rest of 7 IFTTT recipes we desperately need for 2014 over at Medium.
Photo credit: Jeff Kubina