I spent a fair amount of time this holiday break unplugged — reading physical books(!) and conducting entire conversations that didn't center around mobile applications, online learning models, and digital strategy best practices.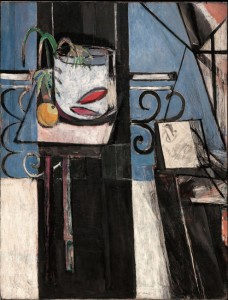 One of those offline activities was seeing the Henri Matisse show at the Met. The New York Times review called it a "thrillingly instructive exhibition," and the way the works are juxtaposed offers up a glimpse of his thinking about different modes of painting, both within each subject and over time. Today, it turns out, is Matisse's 143rd birthday, but the works and the iterative approach feel contemporary.
We're trained to look at art in the hushed halls of a museum as a finished product from a genius — to be audience of only the final product and not the labored creation. This exhibit captures Matisse showing a little more of the sausage being made; through its artful curation what might have been drafts or refinements of each piece, you're inspired to think as much about the evolution as the final, masterful work.
Image credit: Henri Matisse (French, 1869–1954) Goldfish and Palette, 1914 Oil on canvas; 57 3/4 x 44 1/4 in. (146.5 x 112.4 cm) The Museum of Modern Art, New York, Gift and bequest of Florene M. Schoenborn and Samuel A. Marx, 1964 © 2012 Succession H. Matisse / Artists Rights Society (ARS), New York