How is the digital explosion affecting arts organizations? Last week, a Pew Internet report revealed the current digital focus of arts orgs, and what they identify as emerging opportunities and costs. Unsurprisingly, 99% have a web presence and many struggle with the time and expertise cost of social media. A few other findings that leapt out: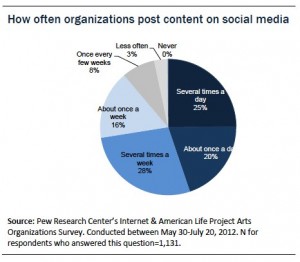 a full 97% have a presence on social networks and 45% post at least once a day
the "brand champion" strategy of having patrons help manage negative comments on social media is working for many
widely varied audience use cases (e.g., older/younger patrons divide on social media) creates need to support traditional alongside new media outreach
20% have reprimanded employees over content shared online, which speaks to tensions between employees' right to freedom of expression and the organizational needs for confidentiality and appropriate, public behavior (if this isa tension in publicly-funded arts orgs, what does this look like for banking?)
One opportunity that stood out was the sizeable gap between adoption of websites (99%) and social presences (97%) and that of mobile apps (24%).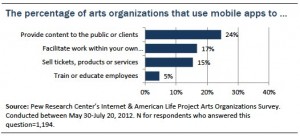 Certainly, not every arts org needs a native application, but if I were working on a low-cost SaaS mobile solution with ecommerce baked in, arts organizations would be on my target list.