A new content type, user annotation, has been cropping up on popular websites lately. An annotation allows site visitors to interact directly with a chunk of content rather than scroll to the bottom of a page to leave a comment. User-contributed annotations are not only a way for readers to interact with text, but for users to engage with other media like images on Gawker and audio files on Soundcloud.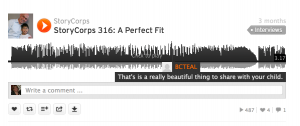 Unlike threaded commenting, which descends all-too-frequently into a cage fight of the uninformed versus the enraged, annotations offer the hope that civil discourse can occur when users interact directly with the content. User contributions are marked by a small icon (in this case, a 1) that other site visitors can click on to expand: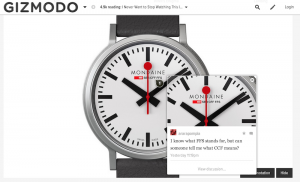 How do you create an annotation? Here's what the process of leaving an annotation looks like on Quartz: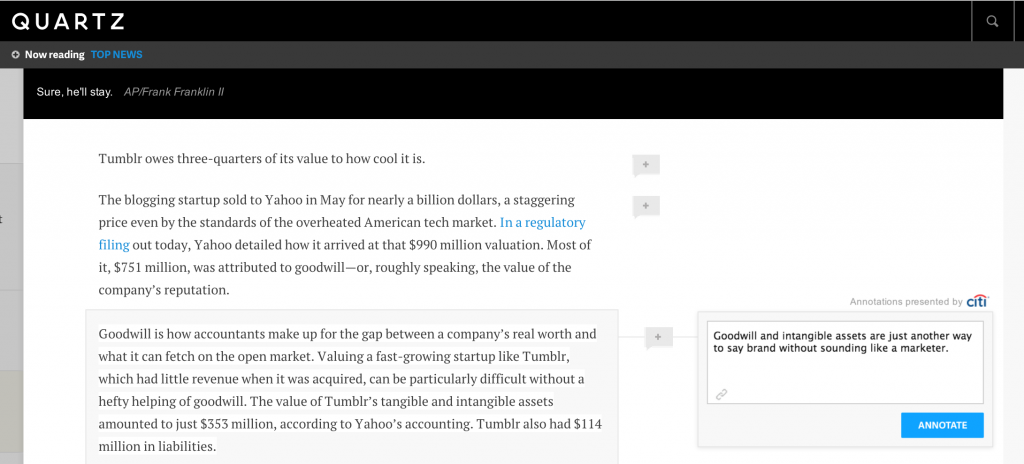 Clicking on the + box brings up a simple text field to submit an annotation. Site authors and editors can moderate the content before it is posted, and reward thoughtful contributions by featuring or replying to the annotation.
See the Citi logo at top right of the text field? That's a clever revenue approach to have corporate sponsors underwrite a specific technical feature. Sponsoring technical features offers a promising complement to a predominantly native advertising business model used by many news sites — with fewer of the underlying editorial concerns.
Annotations have been around forever in academia, but this relatively new web behavior will be familiar to a wider group of people who use comments in ubiquitous desktop applications like Word or PowerPoint.
The days of sitting back and passively viewing content are, for good or for ill, over. Finding ways for people to interact with content that encourage new ideas or productive debate is the new nut to crack.