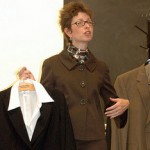 Mashable recently posted a selection of tips aimed at entry-level job seekers on how to make a good first impression in a job interview. They're reasonable tips, and worth mentioning because they aren't always heeded. But they focus on the surface elements, like dressing appropriately and shaking hands. Let's face it, though: those are tables stakes in a highly competitive job environment. If you're looking to ace an informational or entry-level interview, you're going to need style and substance. Consider the following
Lead off with strong content. That means your résumé is current and spellchecked, and matches what's on your LinkedIn profile with minimal customization. Consider ways to add your own voice. Résumés for entry-level positions that have leapt out of the pile include a prospective developer who listed logic lessons learned from flipping burgers, and a content producer who formatted her résumé like a Twitter profile. When you're reading 50 résumés and diligently trying to give every candidate a fair shake, a relevant flash of personality stands out.
Use the internet to arrive prepared. It's disheartening interviewing someone with a good degree and/or internships who shows up without rudimentary knowledge of the organization or its mission. Do 30 minutes of homework on the organization, recent news, and the people you're meeting. When candidates show up asking for Mr. Hewitt, the front desk lets me know. Come prepared with three questions — that way, you have a spare if the first two are answered during the conversation.
Take notes. It's helpful to have a device or old school note pad to jot down questions as they arise, or record items for follow up. If you have interesting experience and seem committed to your search, I'll be trying hard to come up with relevant people and paths to pursue. Recent candidates have shown up without anything to take notes with or, halfway through, pulled out a notepad and asked me to go back and repeat them.
Make your thank you note — yes, email is fine — work for you. During your interview, take quick notes on topics discussed. After the interview, scan recent headlines for a relevant article, read it (that part's important!), and forward it along with a brief comment. Don't worry if it seems too basic or if you think the interviewer might have read it. You're saying, "Hey, I paid attention. Here's something relevant and potentially useful." While stationery is lovely, an content-rich follow up is even better.
Keep the interviewer posted. If something works out as a result of an interviewer's reference or not, let them know. Good news about a job or an update on a continued search are both welcome. Sending a follow up gets you noticed as someone who takes initiative and threads the needle — both highly sought-after traits.
By all means, cover your bases with the attire and posture, but know that a show of substantive content will be a strong differentiator. And today's digital and social landscape means that it's easier than ever to showcase your ideas — through a Twitter feed, a Google+ account, a well-developed LinkedIn profile, or even a personal blog on an unrelated topic. None of these tips is expensive or onerous, and trying them just might set yourself apart in a competitive hiring situation.
Photo credit: pennstatenews