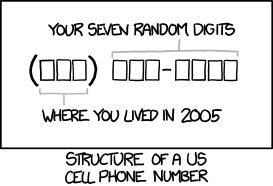 In the offline world, clichés about first impressions abound. From the oft-repeated "you never get a second chance to make a first impression" to articles admonishing us about body language and the importance of women wearing makeup to appear competent, there's lots of advice floating around for acing the first in-person meeting. Here are five things you may be communicating about yourself online well before you walk through the door:
Mobile phone: For younger job seekers, the diagram above usually tells me where your parents live. The piece you can control: make sure your mobile phone has a sensible greeting (no jokes or diatribes) and that you check the old-school voicemail messages. Don't worry — once you get the job, we'll just text.
Email address: There are still a lot of TMI addresses floating around out there in the spirit of johnsmith2006@gmail.com, ilovesalamisandwiches@juno.com, or jackiesmom@yahoo.com. Don't date yourself with the year you received your gmail invitation. Also, your parental status and abiding love for luncheon meats can be safely omitted here.
Twitter handle: The handle is capped at 15 characters — so there's less opportunity for free expression. Keep your handle on target and not spammy, and if it's an asset you ably cultivate, make it easy to infer from your email handle.
LinkedIn profile: Did you know you can set up a custom URL for your public profile? If your name is "John Kim" you're likely out of luck for an exact name match, but you can probably set up something shorter and more meaningful than the default.
Domain name: Owning your own domain name is a low-cost investment for consistency in your online presence with a minor search results benefit. Set one up, even if it refers to a directly to a LinkedIn or your Google profile.
Job seekers in particular are mindful of their online presence, although HR usage of social media for screening (as opposed to recruiting) is more cursory and less exhaustive than the media would have you believe. It's good practice, however, to get the basics of your online presence right — clean, personal metadata — to make a good first impression online.
Source: xkcd